The extruder attachment on the Caleva CML does not have a water jacket. Does it need one?
All extruders generate heat and screw extruders generate more than most other extruder types. For this reason, water jackets are generally an integral part of single or twin-screw extruders.
Given the small batch sizes (10 to 100 g) that are optimum for the CML extruder, a well formulated extrudate will not generate excessive temperature over the course of a single extrusion as this phase of the entire process is completed in a relatively short time.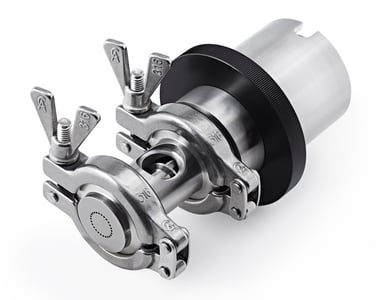 If the extrudate does not flow easily through the die this has the potential to generate excessive additional heat (this is formulation dependant). With some difficult formulations, excess heat can be generated even at this stage.

If this happens in these small experimental batches then this is a clear signal that the formulation would not likely be suitable when scaled to production or larger batches. If this happens to you, then you should consider modifying the trial formulation in some way to reduce excessive heat generation.
The use of a cooling water jacket could mean that this important information is not revealed to you during the development phase.
By using the Multi Lab, you can determine if the formulation under test is likely to be suitable for scale up. If excessive and unacceptable heat is generated at this early stage then the formulation is likely to be difficult to scale-up in an unmodified form.
To summarise:
A water jacket for cooling as a standard part with the screw extruder attachment on the CML is not recommended.
If you're interested in this system, you can contact us here.
Or for further reading on the Caleva Multi Lab, you can visit this page.