We always offer our potential users the opportunity to test their formulation with us in our lab. This is to ensure that installing our machines would be the right decision for their formulation development, and/or their production environment.
This short article has been written from notes that Dr Steve Robinson made during trials with catalysts sent to us by a customer and we achieved some interesting results with Zeolites and Bentonite.
After several failures of working with the Zeolite on its own, we were able to create a formulation that worked remarkably well.
The formulation devised was a mixture of 14g of Zeolite + 14g of Bentonite + 5ml of water. This was mixed aggressively at 80 rpm for 5 minutes. After the 5 minutes ended, another 2 ml of water was added and mixing continued for further 2 minutes. The material became dark, very hard and looked like it would be impossible to extrude. We tried extrusion anyway and the material easily passed through the 1mm diameter hole die that was attached to the machine.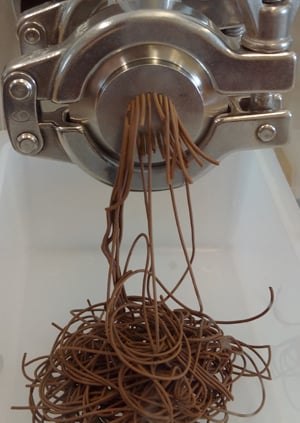 .


After this success, we spheronized the material at 2800 rpm for 5 minutes, then at 1700 rpm for an additional 2 minutes. The resulting pellets stayed together well and were quite resistant to crushing.
"The results were great!!!!!" – Excerpt from Dr Steve Robinson's notes.
Dr Robinson decided to run the trial again with a 3mm die. The result was very similar, however the spheronization was not as effective, because there were less beads. We believe if there were two loads of 3mm extrudate in the spheronizer, we would have achieved better results due to the higher amount of collisions.
We face many different challenges in many different industries. If you're facing a problem with your formulation development, wonder if your process could be more efficient or need some high quality extrusion and spheronization equipment, then contact us.