Switch quickly between different materials with this easy to clean CE marked, top quality extrusion and spheronization system. An example of reliable and efficient British engineering at its best - this is the best option for your pellet production and is backed by the highly acclaimed support from Caleva Process Solutions.

The Caleva system gives you the ability to vary the density of the extrudates. Fine-tune your process to be ideal for your product properties and the intended use of your pellet or extrudate. This allows you to scale-up from your formulation development with any laboratory benchtop extruder.
Caleva is a company with almost 100% of its focus on equipment for extrusion and spheronization. It is our key and core business. We are passionate about our equipment and support being the best there is in this field.
The Caleva Variable Density Twin Screw Extruder
The Variable Density Twin Screw Extruder (VD-TSE) is Caleva's largest scale extruder, capable of producing up to 150kg of extrudate per hour (formulation dependent). Caleva's large-scale production extruders are used in production for a wide variety of industries by both large manufacturers and smaller contract manufacturers around the world. The VD-TSE can be used for anything from pharmaceutical products to animal feed. Outputting consistent and reliable extrudate regardless of your industry is what the VD-TSE is designed to do.
Designed to provide excellent results and offers the ability to output

variable density extrudate.

Learn more about Variable Density Extrusion
Designed to withstand a higher axial load than standard to reduce risk of damage in use by operator over a wider range of industries


The Caleva Spheronizer 700
The Caleva Spheronizer 700 (S700) can produce up to 150 kg of pellets every hour (depending on your formulation) and works most efficiently with loads between 1 kg to 15 kilos. In a recent manufacturing installation, very small pellets were required, but in loads greater than 4 kilos the size of the pellets increased slightly beyond their required measurements. Using the flexible batch size of the S700, meeting the formulation's requirements was a simple and easy adaptation.
A few key features:
Air blast technology to enhance efficiency during continuous operation
Batch operation with fully automatic discharge
Water jacket for heating or cooling of the product

Surprisingly Compact
Good management of space in a production environment is often key to ensuring a high productivity rate. Having as much equipment as possible whilst still ensuring there is enough working space becomes difficult with large machinery.

For an extruder that can output around 150 kg per hour, people are often surprised by it's small footprint.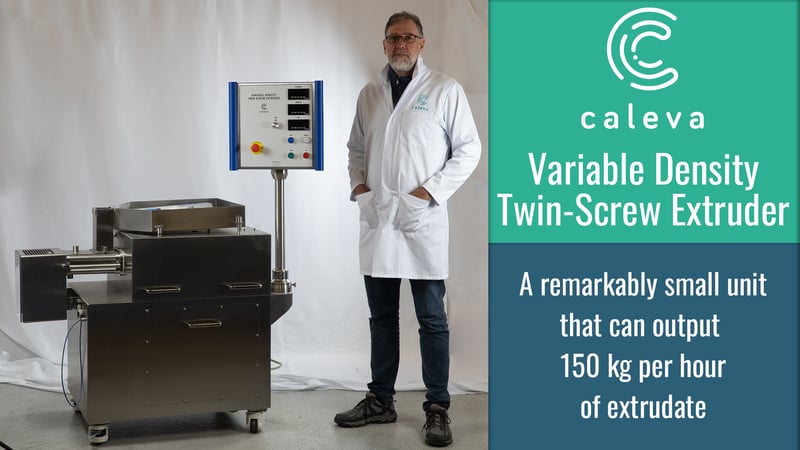 Superior Caleva Design