Our general tablet coater literature describes the coating capability of a tablet size of up to 10 mm. However, this refers to a diameter rather than a capsule style design in length. The Mini Coater Drier is incredibly versatile and really the limiting factor is generally a weight issue as opposed to size. It's important to consider weight/batch size to ensure a good coating motion within the coating apparatus. Please see the image below from a previous trial, where we have coated elongated capsules of 25 mm in length. We were using 15-20 capsules per batch.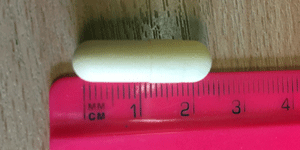 At the other end of the scale we talk about the smallest size that can normally be coated as something >600 microns. However we have had one customer who has successfully coated particles with a size of 350 microns.
If you have a large or very small particle that requires coating then the best thing would be to run some trials with your product. Contact us and arrange to send a sample of your product to us for testing in our laboratory.
Coating very small capsules article