Can I spheronize directly from a granulation or do I have to extrude the granulated material before spheronization?

Well yes, you can! In some circumstances it is possible to omit the extrusion stage but the results may be not be what you expect. …….

It all depends on what you need to achieve with your result and what you want to do with the product once it is made. Whether or not you decide to include the extrusion stage will depend on what you want to achieve.

If the key objective is making pellets to obtain a batch that has slightly increased density and is approximately round in shape with a smooth surface, then it is possible that the step can be avoided, saving time and cost. With this two step process the granulation can be pelletized with some rounding and some densification but the diameter range of the pellets will be very wide.

If you have a granulation and your requirement is pellets having a rounded shape, with some densification, and with a smooth the surface and size variation is not an issue, then it's possible to simply add a granulation to a spheronizer (providing the water or other liquid binder content is within a suitable range) and pellets can readily be formed.

The main issue is the unacceptable wide range of sizes. In some applications (some types of fish food for example) this might be an advantage. Generally, when pellets (spheroids or microspheres) are being made from a granulation and a narrow size range is considered a requirement then the extrusion stage is essential.

In an extrusion and spheronization process the most important factors determining the size range of the pellets within the batch are the water content of the granulation and the diameter of the extrudate (this is determined by the diameter of the hole in the die of the extruder).

The water content is modified at the formulation development stage (The Mixer Torque Rheometer as a Tool for Pre-formulation Assessment of Exipients) but the diameter of the die in the extruder can be decided on a case-by-case basis during the processing of the product.

A typical result:
The attached photograph shows the results of a simple trial where:
A small sample of lactose and micro-crystalline cellulose, with water as a binder was granulated and spheronized only and
In the other case was extruded after granulation and before spheronization. The results of the two different approaches are clear to see.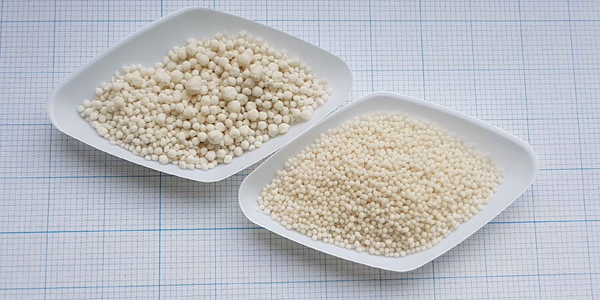 In summary, the extrusion stage is not necessary providing you do not require a narrow size range in the batch of spheres that you are making. If you require pellets with limited variation in size of the pellets then the extrusion stage is necessary.
Back to list
Mixer Torque Rheometry

Explained

Caleva Datastor

Tech Info
Not found what you are looking for?