A visit to Worn Again Technologies.
Scientists at Worn Again Technologies are working with the Caleva Multi Lab (CML) in their mission to eradicate textile waste.
Their expert team are working to capture and transform raw materials from non-reusable products such as textiles and PET bottles and return the material back into the manufacturing supply chain.
We are incredibly proud to be playing a small part in their mission and recently visited their laboratory at MetroCity in Nottingham, UK, to find out more about the project.
Ambitions for a circular world
Using advanced recycling technology, Worn Again separate, decontaminate, and extract polyester and cellulose (from cotton) from non-reusable textiles and polyester bottles and packaging to produce dual PET and cellulose outputs.
These outputs become new fibres and fabrics, replacing the use of virgin resources, and creating a sustainable system where resources are kept in constant circulation.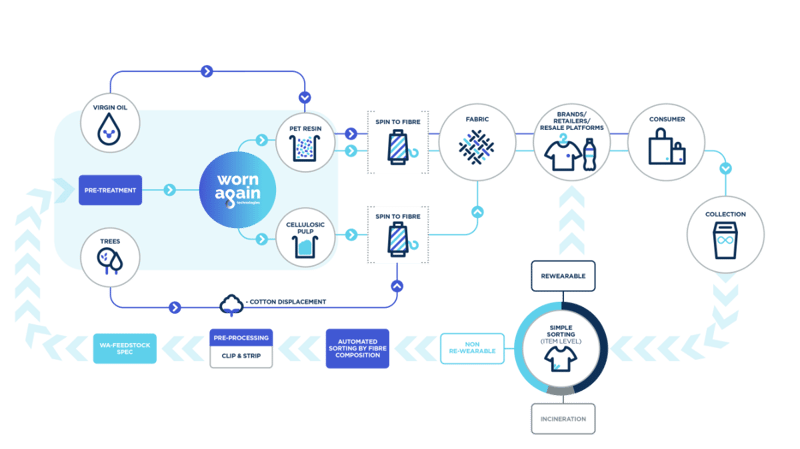 Following a tour, the team discussed progress with Research Chemist, Alba Racero, Research Scientist, Jack Marron and Laboratory Technician, Emma Deakin.

Having explained their process and shared their observations of the CML, our technical specialist, Scott Humphries, explored some of their challenges and offered advice on the equipment.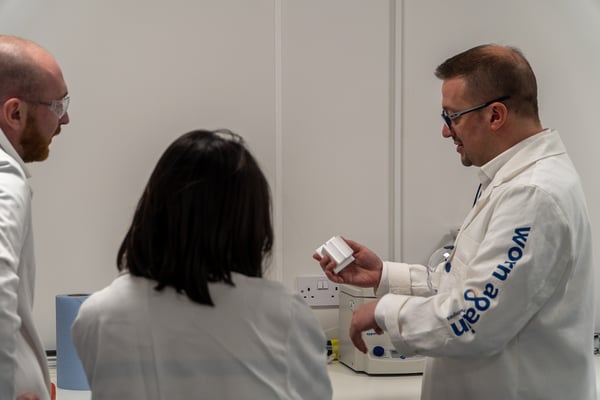 Caleva's Scott Humphries (right) explains the benefits of using a mixer bowl insert to Jack Marron and Alba Racero from Worn Again.
Creating a sustainable future
With current textile recycling methods turning less than 1% of non-reusable materials back into new textiles, we are very excited to see the CML on the frontlines of a new process that is pushing the world further towards a more sustainable future.
"When transferring a new technology from R&D into production, process flexibility and equipment adaptability are key. Caleva was a true partner, working with us to find a creative solution to a difficult engineering problem."
– Erik Koep, Chief Executive Officer at Worn Again
We look forward to sharing further updates on this ground-breaking project as their work progresses.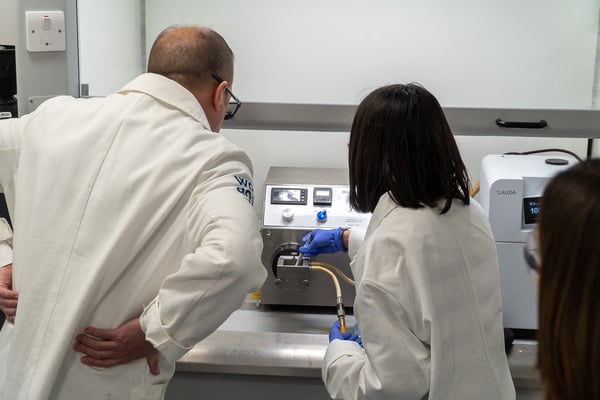 Scott (Left) examining the Caleva Multi Lab with Alba.
Learn more about the Caleva Multi Lab
The Caleva Multi Lab is our most popular piece of R&D equipment.

Found in laboratories, universities, and research centres across the globe, it is used to develop formulations in a diverse range of industries - from pharmaceuticals, catalysts and petrochemicals to animal feed, nutraceuticals, cosmetics, and more.
With the ability to mix, extrude and spheronize, this compact benchtop unit can process batches from 10-50g in as little as 15 minutes.
If you would like to learn more about the CML and how it could help you in your development phase, why not arrange a free demonstration?