Meet our in-country representatives on stand E107-A
DREKS Associates are representing Caleva at this year's 14th annual Asia Pharma Expo exhibition in Dhaka, Bangladesh.
This well-established exhibition takes place at the ICCB Centre from 2nd – 4th March 2023.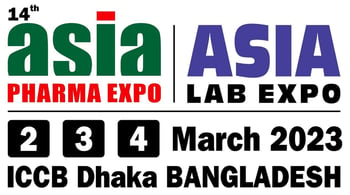 Asia Pharm Expo brings together professionals from the international pharmaceutical industry to showcase the latest in pharmaceutical manufacturing technologies.
Covering everything from research and development equipment to processing, packaging and quality control equipment for the mass manufacture of pharmaceutical products, Asia Pharma Expo is billed as the COMPLETE pharma manufacturing industry. With an exhibitor list of over 650 international participants, it promises not to disappoint.
In-country support from DREKS Associates
Caleva is pleased to be represented at the event by DREKS Associates in Bangladesh, who can provide in-country support for Caleva's range of extrusion, spheronization and coating equipment - including installation and user training.
DREKS Associates are one of the country's leading suppliers of capital equipment to the pharmaceutical and food industries. They have been operating for over 31 years and can truly be described as experts in their field.
DREKS can provide information and advice on Caleva's range of lab-scale and production equipment and help to determine the best piece of equipment for the end user's requirements. Visit stand E107-A to find out more about the Caleva range and meet the DREKS team during the show.
Not just pharma
Specifically designed and built in the UK to meet the needs of research and education facilities, Caleva's range of bench top machines are used extensively in the research and development of pharmaceuticals, but also within food, chemical, catalyst, cosmetic, nutraceuticals, agri- and aqua-culture industries, and many more.
Explore Caleva's lab scale range and discover if it's the right fit for your research. Find out more about Caleva's lab scale range of equipment.
If you are based in Bangladesh and would like to be connected with DREKS Associates, please contact us.