Introducing our new Digital Marketing Specialist

Caleva is very pleased to welcome Dawn Philips to their expanding team.
Dawn joins the Caleva marketing department in the role of Digital Marketing Specialist. Having worked for many years in agency roles, Dawn brings with her a wealth of digital marketing experience, paired with a keen awareness of customer service and user experience.
Already putting her skills to good use, Dawn has settled in quickly, learning all about Caleva's range of lab and production scale processing equipment within the world of pellets and tableting.
Although the team work remotely for most of the week, Dawn recently made her way into the office to spend a day in the lab with our Technical Sales Manager, Scott Humphries. Under Scott's guidance, Dawn was introduced to the Caleva Mixer Torque Rheometer (MTR) and the Caleva Multi Lab (CML).
Using the MTR to identify the ideal amount of binder, Dawn used the CML to mix, extrude and spheronize her very own batch of pellets during the session.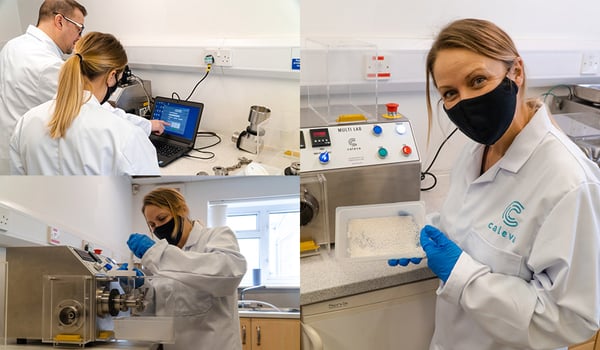 Of her experience so far, Dawn said "I couldn't be happier to join Caleva, the team are brilliant and the work that Caleva does is really exciting."
When asked what she is most looking forward to over the coming months, Dawn said, "I'm keen to just get stuck in and use my skills and experience to contribute towards to the continued growth of company."
Alongside our Marketing Executive, Tom Lipop, Dawn will be responsible for developing the Caleva website, managing digital communications and the company's social media presence to enhance customer experience.
Delighted with the appointment, International Marketing Manager, Louise Mee said, "With our ambitious growth plans and some exciting projects in the pipeline, Dawn is already proving to be an invaluable asset to the Caleva team. She brings with her a wide range of digital marketing skills and experience that will be vital to achieving our plans moving forward."

Please join us in welcoming Dawn to the team!
Connect with Dawn on LinkedIn.