Meet the Team in Barcelona
Meet the team at CPHI Worldwide in Barcelona to discover how the Caleva range of lab-scale processing equipment can enhance and accelerate your research.
Do you work in formulation development? Are you looking to develop extrudate, pellets, spheroids or beadlets from wet mass?
Wet mass extrusion and spheronization can provide many benefits for your product, including:
Create pellets with a uniform size

Improve the hardness, or friability, of granules

Provides an ideal shape for coating
Can increase the amount API in the formulation
Optimized flow characteristics
Discuss your Project Aims & Challenges with Caleva at CPHI
Scott Humphries and Louise Mee will be attending CPHI Worldwide on Tuesday 24th and Wednesday 25th October between 10am and 6pm to meet with partners and clients from around the world.
Book a meeting with Scott and Louise to discuss your challenges, discover how extrusion and spheronization can support your work, and find out more about our range of bench-top solutions, including the brand new Multi Lab Scientific.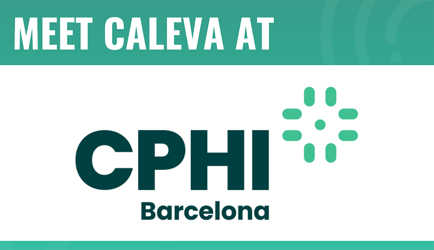 Why Caleva?
For more than 50 years, Caleva has designed and manufactured high-quality lab equipment that has shaped the way our customers understand and use the processes of extrusion and spheronization.
Designed for pharmaceutical, catalyst, cosmetics, aquaculture, zeolites, biofuels, petrochemical, agrochemical, and food industries, Caleva offer some of the smallest bench top equipment available on the market. Working with our trusted partners around the world our equipment features in the laboratories of the top-ranking pharmaceutical companies, research institutes and universities globally.
Using the Caleva range of laboratory solutions you can quickly characterise, mix, extrude, spheronize and coat very small quantities of material, saving valuable time, space, and resources.
Arrange a meeting today to see how we can help with your development projects regarding granulation, extrusion, spheronization, pellets and tableting formulation development.
Event Details
CPHI Barcelona Fira Barcelona Gran Via Barcelona Spain
24-26th October 2023
https://europe.cphi.com/europe/en/home.html
Not Going to CPHI Worldwide?
You can find out more about the range of Caleva laboratory solutions from the comfort of your own office with a personalised demonstration by one of our equipment specialists.
Demonstrations are private and confidential. It is not published or shared with anyone else and we are happy to set up a non-disclosure agreement if you need one.
Bring your team together to ask the all-important questions about performance, capabilities, suitability to your materials and more with a free online demonstration.