To meet GCLP requirements in research and development it is essential that your lab machines are functioning at the required standard, providing accurate, reliable, and repeatable results.
Why Looking after your Lab Equipment is so Important
Good Clinical Laboratory Practice (GCLP) requires all laboratory machines to be properly and regularly maintained to the manufacturer's guidelines to ensure the quality and validity of test data. GCLP states that all equipment used in a lab should be periodically inspected, cleaned, maintained, and calibrated, as appropriate.
The ability of your lab machines to provide consistently accurate and repeatable results relies partly on the care and maintenance they receive.
Neglected lab machines could be generating results that are lacking the precision and accuracy required for your research.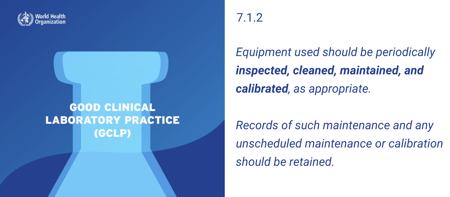 https://assets.publishing.service.gov.uk/media/57a08b54e5274a31e0000ac6/gclp-web.pdf
What does Regular Maintenance Involve?
The type of care and maintenance your lab equipment requires will vary from machine to machine.
Regular maintenance will usually range from visual inspections, cleaning (and sterilisation where required), the replacement of worn parts, or possibly even an annual visit from a qualified service engineer.
What is essential is that the correct manufacturer instructions are followed for each piece of lab equipment and that the maintenance schedule is followed, with a record kept of all maintenance undertaken (both planned and unplanned).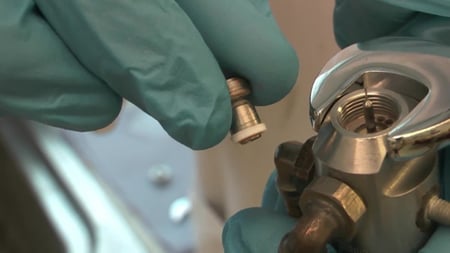 How to Maintain and Care for your Lab Machines
Each piece of lab machinery will have its own unique set of manufacturer instructions.
A good manufacturer will produce detailed instructions, with easy-to-follow steps, diagrams and pictures. Some manufacturers will create helpful video guides for users to follow, like this one which demonstrates how to clean the spray head on the Mini Coater Drier.
Following the manufacturer's guidelines will help to ensure the machine enjoys a long service life and will ensure your lab is adhering to the standards required by Good Clinical Laboratory Practice (GCLP).
However, we know that even in the most organised labs, instruction manuals can get misplaced.
In the event of misplaced instructions, we advise contacting the manufacturer, quoting the machine serial number to make sure you receive the correct instructions for your machine. This is important because a newer or older version of the same machine could have a completely different set of operating and maintenance instructions.
If you have misplaced the instructions for a Caleva lab machine please contact us.
General Maintenance Guidelines
See the steps below for an idea of what might be included in the maintenance guidelines for your lab machines.
Visual Inspections
Before plugging the machine into a power socket:
Conduct a visual inspection of all cables for breaks (electric and data)
Inspect plugs and switches for any breaks
Check the machine casing for damage or cracks
Frequency: At the start of each day the machine is used. The operator should also remain vigilant during operation.
Safety Checks
Check that the machine will not operate or reset while the emergency stop button is depressed. If this function is not working correctly the machine should not be used.
Frequency: At the start of each day the machine is used.
Cleaning and Inspection
Each time the machine is disassembled for cleaning the contact parts should be inspected for signs of wear or damage before reassembly.
Frequency: Each time the machine is disassembled and cleaned.
Replacement of Worn Parts
Some machines will have parts that are designed to be consumable and will therefore experience wear during normal use.
Pay attention to the consumable parts and replace them when necessary. Some parts may need to be changed by a qualified professional.
If replacing the parts yourself, ensure you use spares from the manufacturers' recommended spares list. The use of third-party spares may not be advisable. For some manufacturers, Caleva included, using third-party spares will invalidate the machine's warranty, and may make the machine unsafe to use.
Keeping a stock of manufacturer-approved replacement parts is advisable to help prevent downtime.
Frequency: Worn or damaged parts should be changed immediately.
Calibration
Some lab machines may require regular calibration. This might have to be carried out by a qualified service engineer, or it is possible the manufacturer may provide the means for you to carry out calibration yourself, in-house.
Please note: The steps above are general, non-specific, and in no way exhaustive. We would always advise following the manufacturer's instructions for each piece of equipment in your lab.
Caleva Bench-Top Lab Machines for R&D
Caleva machines have been designed with simplicity in mind. They will enjoy a long service life with minimal maintenance which can be carried out easily by the user.
In addition, Caleva machines are designed to be dis- and re-assembled without any specialist tools. All the attachments are quick-release and use dowel pins and thumb screws for ease of use.
Spares Kits for Caleva Lab Machines
At Caleva we have created standard spares kits for our lab machines which include replacements for the consumable parts as well as the parts we know are unintentionally, but easily, misplaced.
Having a spares kit to hand will help to prevent downtime. See our various spares kits below. Click on each image to enlarge it.
Spare parts for Caleva machines can also be purchased individually, on an ad-hoc basis.
Ask us for more information about Spares Kits for Caleva lab machines.