Caleva teams up with a local high school to provide work experience and career development talks
Working in partnership with Sturminster Newton High School, Caleva welcomed a local student to the team for work experience.
Sixth form student, Tom Mills, spent a week with Caleva gaining experience across all departments within the business to prepare him for the world of work. From operations to engineering, to accounts, sales, and marketing, Tom gained valuable insights into different job roles and how individual departments operate and collaborate to create a successful manufacturing and export business. He even enjoyed a hands-on experience with Caleva's extrusion and spheronization lab equipment and made his own pellets!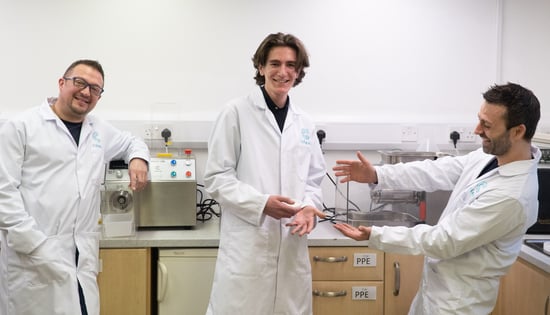 Tom agreed that the experience gave him a greater understanding of what it means to be a part of a team. "It's been interesting and informative," Tom said of his time with Caleva, while recognising that the team made the opportunity particularly accessible to someone who is new to the industry, adding that he "enjoyed the experience" overall.
Over the course of the week, Tom was able to gain valuable insights into how a UK manufacturing business sells and exports its products to a global marketplace. During his placement, Tom achieved a greater understanding of where he would like to go in his life – with both his education and his career.
"Caleva has introduced me to a new world of interests and provided a wider, more interesting career horizon. Combining the lessons I have learnt here will allow me to better prepare for life as well as the issues and problems that come with it. Routine and preparation are some of the key lessons I've learnt." Said Tom.
Managing Director, Richard Lovell, said, "Tom was a credit to the school and has a big future ahead of him. It was our privilege to be able to support in some small way with the development of a young mind and we look forward to getting the opportunity again in the future."
The team at Caleva all wish Tom the very best for his future and hope that his experience with us will help him when choosing a future career.
Samuel Ling, Head of Sixth Form at Sturminster Newton High School, said, "Thanks for providing Tom's work experience. He spoke very highly of his time at Caleva and I feel it will have been an invaluable experience for him. It looks like he had a really great week."
Career Talks
Continuing our support for local education and careers development, Managing Director, Richard Lovell will be giving further talks at the school as part of their Young Enterprise Scheme which aims to give young people the life skills, knowledge and confidence they need to succeed in the changing world of work.