Caleva sign new agent, MM Service SRL, at CPhI Worldwide
MM Service SRL is now an authorised agent for Caleva Process Solutions.
During the team's recent visit to CPhI Worldwide in Milan, MM Service SRL officially joined Caleva's international network of agents and distributors.

Based in Bologna in Northern Italy, MM Service is now an authorised partner of Caleva Process Solutions, offering in-country advice and support throughout Italy and San Marino.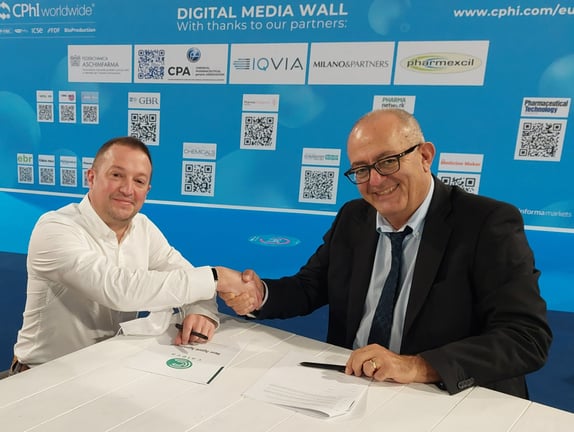 Working with a variety of original equipment manufacturers in processing and packaging for the pharmaceutical, nutraceutical, cosmetic, food and chemical sectors, the Caleva range of spheronization, extrusion and coating equipment is a natural addition to MM Service's offering.
Technical Sales Manager for MM Service, Marcello Militello said, "MM Service is honoured to develop the Italian market for Caleva, a company with more than 50 years of experience in the extrusion and spheronization process, satisfying both production and R&D needs.
We will be at the side of all Italian customers to interface commercially and technically with Caleva for all projects that customers may have."
As a representative of some of the most well-known companies in Italy and abroad, MM Service is the perfect addition to our Caleva Worldwide network.
"We are very pleased to welcome MM Service to the Caleva family. We are excited to be working with a team who share our vision and values and help us offer dedicated in-country support and advice to clients", said Scott Humphries, International Sales Manager at Caleva.

If you are based in Italy or San Marino and have any questions about Caleva equipment, services, or anything relating to extrusion, spheronization or coating please contact Marcello Militello via the MM Service Caleva Worldwide page: