Most Unique Specialist Laboratory Equipment Manufacturer 2022.
Caleva are delighted to announce that we have been selected as the winner of an Acquisition International Business Excellence Award.
Caleva has been presented with the award for the Most Unique Specialist Laboratory Equipment Manufacturer.
Based in Sturminster Newton in Dorset, we design, develop and manufacture specialist R&D machinery for wet mass processing, predominantly for granulation, extrusion, spheronization, rheometry, and tablet/pellet coating.
Caleva machines are used in a wide range of industries, including pharmaceuticals, cosmetics, agriculture, aquaculture, nutraceuticals and many more. With a network of trusted international distributors and partners we are able to offer in-country support for our UK manufactured machinery worldwide. Winning these incredible awards is a testament to having such a strong list of partners, and plenty of hard work over the years.
"I am very proud of the team who not only pulled Caleva through a worldwide pandemic, but also managed to make the business thrive," says Managing Director, Richard Lovell.
He goes on to add "The last few years have been challenging but everyone at Caleva pulled together as a team to weather the storm. I couldn't be more proud."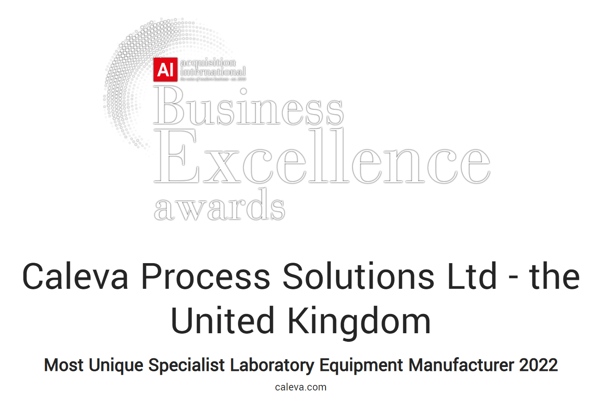 Acquisition International's Business Excellence Awards publicly recognise outstanding businesses that demonstrate excellence in business and a passion for the community.
They celebrate businesses every year that have strived to deal with the unprecedented changes caused by the pandemic and the economic global instability that has followed. Acquisition International look to honour those who have excelled in their industry and Caleva are proud to have done just that.
Acquisition International, are an international, monthly digital business magazine, which brings over 108,000 industry professionals up to the minute business information from all over the world.
Sales and Marketing Director, Louise Mee says "We have been making really strong progress as a team over the past few years, and I am delighted to see the team's hard work get recognised like this."