Dr Steve Robinson worked with the team at the Laboratorio de Biotecnología to install a Caleva Multi Lab and Mini Coater Drier.
Installation training was completed over a period of two days. The first day was dedicated to the processes of granulation, extrusion and spheronization using the Multi Lab and the following day the pellets created on the previous day were coated and dried.
The team receiving training were excellent; very positive and quick to learn and were very happy with the machines.
---
"Thank you so much for the training and teaching – it wasn't so much what we learnt but the way you did it. You made it very enjoyable. Thank you" Juan Gabriel Garmendia
---
A series of trials devised by Dr Robinson were worked through. The trials were successful, though some were purposely designed to fail in order to help the learning process. Pharmaceutical pellets were also made from the customer's own formulation and this was a success during the first, and subsequent trials. They were very happy with the day and felt confident that they could manage the equipment properly and overcome problems should they arise.
The second day was dedicated to the Mini Coater Drier. Small and large quantities of tablets were coated first and then the pellets made during the previous day. The pellets chosen for coating contained a large amount of microcrystalline cellulose (MCC) they had shrunk considerably during the drying and were probably, on average about, 0.6-0.8 mm in diameter. Despite this challenge, the coating process worked extremely well and this is in no small way testament to the skills and ability of the customer's lab technicians being trained - they learned quickly and will undoubtedly get the very best out of the equipment.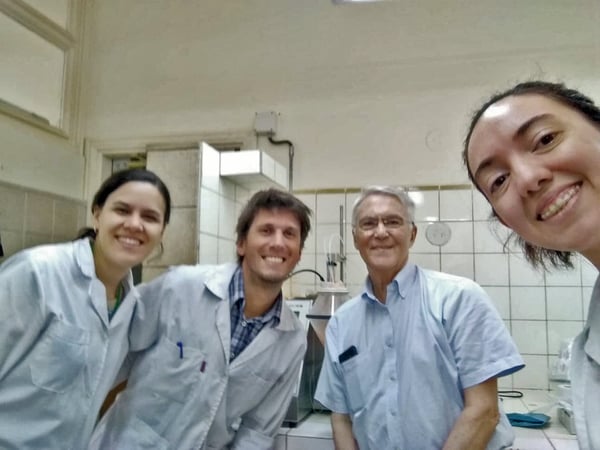 From left to right: Ms Analía Tappin, Mr Juan Gabriel Garmendia, Dr Steve Robinson, Ms Maria Luisa Rodriguez
Some photographs below of the pellets that were made by mixing, extrusion & spheronization using the Caleva Multi Lab on the first day and coated using the Calvea Mini Coater Drier on the second day.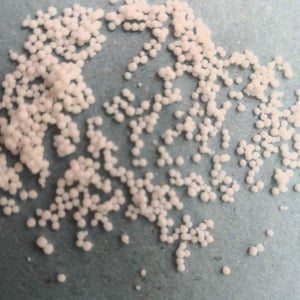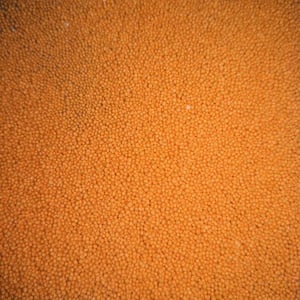 Laboratorio de Biotecnología
Instituto Polo Tecnológico
Facultad de Química
Ramal Ruta 101 José D'Elía s/n y Ruta 8
CP 91000
Pando - Canelones- Uruguay