Meet Caleva's Scott Humphries at the
MEDELPHARM Workshops and APGI Info Day
in Lyon 19-20 June 2023
Industry experts will be arriving in Lyon in June for two days of insightful talks and workshops centred around innovations and market trends in Oral Solid Dosage (OSD) forms.
Caleva is proud to be supporting our valued partners MEDELPHARM, as well as APGI at the two events.
MEDELPHARM will be hosting an engaging afternoon of hands-on workshops on 19th June, which will complement the APGI Info Day that is taking place on 20th June.
Caleva's International Sales Manager Scott Humphries will be participating in both events. Scott will be hosting a workshop on 19th June alongside MEDELPHARM's Delphine Ach-Hubert on the use of Mixer Torque Rheometry in formulation development. He will then be delivering a talk on 20th June at the APGI Info Day called "Using Rheometry to Accelerate your Formulation Development and Control Quality".
MEDELPHARM Workshops
MEDELPHARM's workshops on 19th June will be focusing on various stages of tablet development and are led by the experts from MEDELPHARM Science Lab, along with their partners Granutools, JRS PHARMA, Skyepharma, and Caleva.
The MEDELPHARM workshops will complement the APGI Info Day event taking place the following day and workshop attendees can look forward to gaining hands-on and practical insights into innovative processes that address the evolving market trends in oral solid dosage (OSD) forms.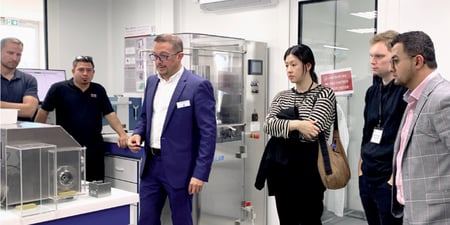 APGI Info Day
The Association de Pharmacie Galénique Industrielle (APGI) event takes place in Lyon on the 20th of June. The APGI Info Day will gather experts from leading pharmaceutical companies, including Skyepharma, JRS Pharma, MEDELPHARM, and Caleva.
The event aims to provide a platform for industry professionals and researchers to exchange knowledge and insights on the latest advancements in OSD formulations. The speakers will delve into topics such as novel technologies, formulation strategies, and manufacturing techniques.
The APGI Info Day will not only showcase the latest research and developments from the OSD industry, but also promote collaboration and partnerships among industry leaders.
Find out more
For more information about the MEDELPHARM workshops download the event programme here or view the images below. Contact mgardon@medelpharm.com to register for the event.
To find out more about the APGI Info Day, or to register, visit their website: https://www.apgi.org/agenda/info-day-innovative-and-complex-formulations-for-oral-dosage-forms/