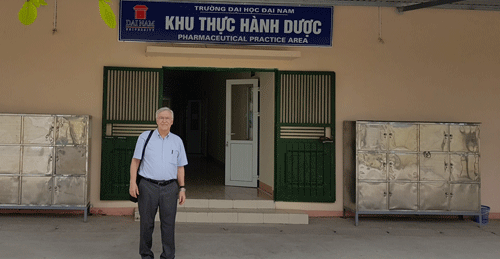 Mini Coater Drier support at Dai Nam University Vietnam

Hỗ trợ kỹ thuật tại đại học Đại Nam

The exclusive Caleva representative in Vietnam (ATI) recently installed a Caleva Mini Coater Drier (Caleva MCD) in Dai Nam University Pharmaceutical Department (Hanoi – Vietnam). Dr Steve Robinson from Caleva and a member of the ATI team recently made a follow-up visit to find out how the team at Dai Nam were progressing and to check that everything was working properly with the small tablet and pellet coater.

Đại diện độc quyền của Caleva tại Việt Nam (ATI) vừa lắp đặt Máy sấy khô Caleva Mini Coater (Caleva MCD) tại Khoa Dược Đại học Đại Nam (Hà Nội – Việt Nam). Tiến sĩ Steve Robinson từ Caleva và một thành viên của nhóm ATI gần đây đã có một chuyến thăm tiếp theo để tìm hiểu xem nhóm tại Đại Nam đang tiến triển như thế nào và để kiểm tra xem mọi thứ có hoạt động bình thường với máy dập viên và viên nén nhỏ hay không.





The staff member responsible for the small coater (Ms. Dung) and Dr Bung (Technology adviser to the department) discussed the use of the coater and the experience they were having with the coating of pharmaceutical tablets (they are not currently coating pellets but are aware that this function was available to them).

Người trực tiếp sử dụng máy bao phim Ms. Dung và cán bộ quản lý Dr. Bùng ( Chuyên gia dược) đã thảo luận các chức năng làm việc của máy bao phim cũng như các kinh nghiệm, một vài vấn đề nhỏ trải qua trong khi sử dụng máy. Hiện tại, lớp học đang thực hành nhiều về bao dịch thuốc viên nhưng các chức năng về bao cốm cũng đã được sử dụng tốt.

The Caleva Coater is in regular use for teaching pharmacy students and is working without problems or issues. The team at Dai Nam are very happy with the machine and the service and support given by ATI in Vietnam.Dr Steve Robinson at Dai Nam University Pharmaceutical Practice Area

Thiết bị bao phim tự động MCD2 được sử dụng hàng ngày cho việc đào tạo sinh viên do thao tác tháo lắp dễ dàng, tiết kiệm thuốc và dễ dàng sử dụng. Thiết bị hoạt động ổn định và không có trục trặc kỹ thuật gì. Người sử dụng rất vui mừng và nhận xét điểm tốt về việc hỗ trợ kỹ thuật, dịch vụ sau bán hàng cho công ty ATI đại diện.

If a small tablet and pellet coater that can coat from a single tablet would be helpful for use in your teaching or research then the small Caleva Mini Coater Drier would be an option that should be considered.

Thiết bị bao phim tự động MCD2 được thiết kế với hai chức năng như: bao viên nén và bao cốm, pellet sẽ rất hữu ích cho công việc đào tạo sinh viên ngành dược phẩm cũng như nghiên cứu thành phần, tính chất dịch bao...Mẻ bao nhỏ từ 1 viên đến 150 viên thuốc giúp bạn tiết kiệm tối đa viên nén, cốm, dịch bao và thời gian vận hành máy.