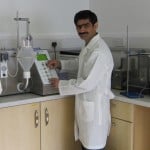 Dr Hamid Merchant from UCL School of Pharmacy (one of the UK's leading centres of pharmacy education and research) recently visited the Caleva facility at Sturminster Newton in Dorset (UK).

Dr Merchant had particular interest in the Caleva Mini Coater Drier and assessed it as a tool for the coating and drying small quantities of tablets and pellets as part of an on-going research project for the development of paediatric solid dose formulations.

Dr Merchant was impressed with the abilities of the tablet and pellet coater to work effectively with small samples sizes and could appreciate the utility of the equipment for serious research and development.

"After seeing the equipment I would be very pleased to come back and run some trial samples" advised Dr Merchant. An invitation was extended to Dr Merchant to return to Caleva to run some trials. "Particularly impressive is the simplicity of use and the way the Caleva equipment deals with the ever present problem of static electricity that makes some other spheroid coaters (pharmaceutical micro-pellet coaters) not suitable for work with very small batches of very small pellets"