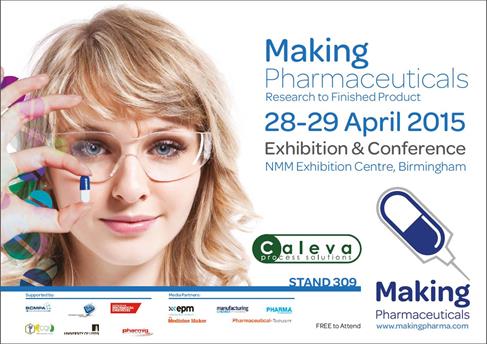 Caleva Process Solutions are excited to announce their continued attendance at the Making Pharmaceuticals Exhibition to be held at the National Motorcycle Museum Exhibition Centre in Birmingham, UK on 28th-29th April 2015.

After the fantastic response from those who attended last year's inaugural event, Caleva decided that it is an ideal showcase to demonstrate their latest innovations in the field of development and manufacture of pharmaceutical pellet equipment.

As this is their 50th Anniversary year, Caleva will be demonstrating their latest R&D level solution, the unique Caleva Multi Lab (CML). This machine is ideal for all those looking to develop or demonstrate the process of extrusion/spheronization with small batches from 5g of dry powders. The CML has the ability to incorporate a mixer/granulator, mini screw extruder and spheronizer in one small machine. This means that not only can the user maintain a uniformed batch size throughout all process elements, but the machine uses far less expensive and scarce bench-top space inside our ever-shrinking laboratories.

Caleva would like to invite all interested parties to join them at this year's Making Pharmaceuticals event, and would be more than happy to provide a free ticket to all who wish to attend.