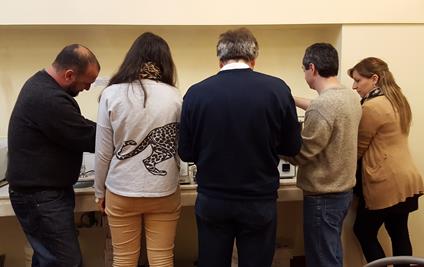 The University of La Plata in Argentina** is one of the most important (and largest) universities in Argentina. It is situated in La Plata that is the capital of the province Buenos Aires.

Caleva has recently supplied the University with laboratory equipment for the development of a research project designed to develop several "socially important" drugs for use in Argentina. The Project is being managed by Dr Arturo Hoya who brings his many years of successful commercial experience with one of the most successful pharmaceutical companies in Argentina, Laboratorios Bagó*.

Dr Hoya made the following comments after a short period of training and support from Caleva technical staff:

"En la Unidad de Desarrollo de Medicamentos de la Facultad de Farmacia de la Universidad de La Plata se ha llevado a cabo la capacitación teórico-práctica sobre los principios básicos de los procesos de extrusión y esferonización.

Participaron profesionales farmacéuticos y técnicos de la facultad y de la planta de manufactura de medicamentos del Instituto Biológico de La Plata y fue dirigida por un especialista representante de la firma CALEVA Process Solution.

Luego de una introducción teórica al tema se realizó la parte experimental utilizando equipos de escala galénica, Extruder 20 y Spheronizer MBS 250.

Los diferentes ensayos utilizando Celulosa Microcristalina permitieron evidenciar el efecto de la cantidad de agua sobre la calidad de los esferoides obtenidos. También se evaluó el efecto de la velocidad y el tiempo de esferonización sobre el tamaño y forma de los pellets.

La actividad finalizó con el análisis acerca de la gran versatilidad que ofrece la extrusión-esferonización en el desarrollo de formas farmacéuticas sólidas innovadoras "

*Laboratorios Bagó
A Rioja 1159
(B7600DMC)
Mar del Plata

**Avenida 7 776
1900 La Plata
Buenos Aires,
Argentina

In the Medicines Development Unit of the Faculty of Pharmacy at the University of La Plata (Argentina) a training was completed in both theory and practice of the basic principles of the process of extrusion and spheronization.

Participating in the training were pharmaceutical professionals and technicians from the medicines manufacturing plant of the Biological Institutes of the University of La Plata and the training was guided by a specialist representative from Caleva Process Solutions Ltd.

After a theoretical introduction to the topic a practical and experimental session using laboratory development equipment from Caleva was completed. The equipment used was the Caleva Bench Top ScreenExtruder 20 and the Caleva Bench Top Multi Bowl Spheronizer 250.

The different trials using microcrystalline cellulose allowed us to see how the quantity of water used in the granulation would affect the quality of the pellets obtained. The effect of the spheronization speed and time on the size and shape of the pellets was also demonstrated.

The training finished with an analysis to complete the understanding of the great versatility that the Caleva equipment offers for extrusion and spheronization as part of the development of innovative solid dose pharmaceutical formulations.