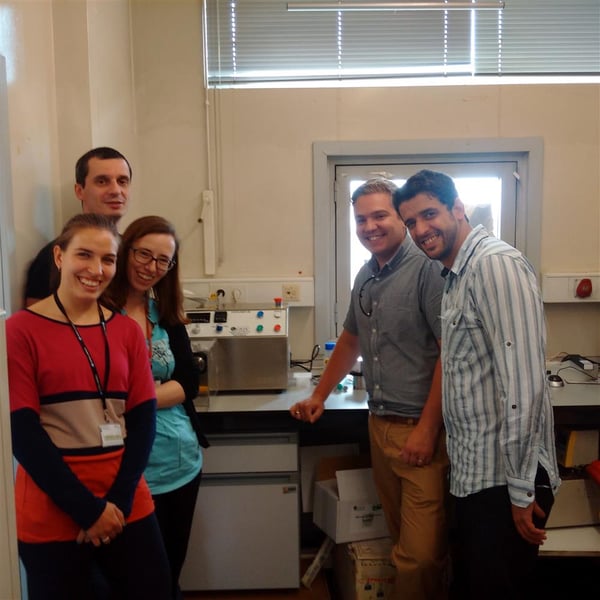 Aaron Quinn from Caleva, working with teaching staff at the University of Porto, Chemical Engineering Department (Departamento de Engenharia Química).

Following a recent purchase of a Caleva Multi Lab for catalysis profiling Aaron assisted with the installation and training and provided some invaluable hints and tips on how to get the best results from their new Multi Lab.

The University recognised the full scope and utility of the Multi Lab and have all three attachments:
Mixer Bowl Assembly
Screw Extruder Assembly
Spheronizer Assembly

They also have the advantage of being able to create a variation in surface area of the catalyst extrudate by using a larger "Die Plate Ø2mm x 2mm Deep" that Caleva have designed specifically for catalyst research.

The study of catalysis, is becoming more and more vital in order to develop and streamline industrial processes. To find out how our products can help you develop catalyst profiles, get in touch today.
In the photograph can be seen as follows:

Maria João Regufe – Ph.D. student
Alexandre Ferreira – Senior Researcher
Ana Mafalda Ribeiro – Senior Researcher
Aaron Quinn – Caleva Technical Specialist
Jonathan Gonçalves – Postdoc Researcher