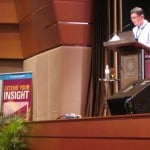 The PharmaTec 2012 Conference and Exhibition took place from 20 to 22nd November 2012 at the Kuala Lumpur Convention Centre, Kuala Lumpur, Malaysia.

This important conference for the South East Asia region was driven by Dr Wong Tin Wui from Faculty of Pharmacy Universiti Teknologi MARA in Kuala Lumpur. The conference is becoming increasingly important and support continues to improve each year.

Dr Steve Robinson from Caleva gave a presentation outlining the key factors (of the many possible ones) that are important to get right during formulation and process development for the manufacture of pharmaceutical spheroids. Key items were identified and methods to measure and quantify these properties were suggested using the Mixer Torque Rheometer technology.

For additional interest and information about future events then please contact Dr Wong Tin Wui wongtinwui@yahoo.com

In addition to the technical presentation the exclusive distributor in Malaysia for all Caleva products Chemopharm exhibited a range of machines at the associated exhibition. Amongst these was the small Caleva tablet and pellet coater on loan from one of the University users in Malaysia.