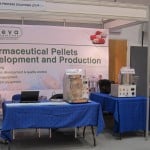 The British Pharmaceutical Society annual meeting (Pharm Sci) was held at Herriot Watt University in Edinburgh this year.

The main theme was "What will be the Future Developments in Pharmaceutical Sciences". As usual, the range of presentations was exceptional with many of the presentations coming from the very forefront of pharmaceutical science. The poster presentations were of excellent quality and demonstrated that the young talent that is available in the UK pharmaceutical field is truly exceptional.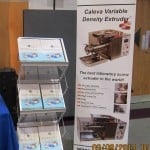 Many companies were also represented* with stands demonstrating the range of equipment and tools available to this pharmaceutical research. Amongst these was Caleva with its leading range of equipment for the development and manufacture of microspheres for solid dose pharmaceutical formulations. For more information about the products offered by the companies below you can contact them directly. If you want additional information about pharmaceutical pellets then call Steve Robinson +44 1258 47 11 22 or email steve.robinson@caleva.com


*= Aptuit, ATG Scientific Ltd, Biopharma Process Systems, CoAcS Ltd, DFE Pharma, Gattefossé SAS, Harro Höfliger Packaging Systems Ltd., HLS, De Montfort University, LabWare Ltd., Nisso Chemical Europe GmbH, Royal Pharmaceutical Society & Pharmaceutical press, Shin-Etsu, PFMD GmbH, Stable Micro Systems Ltd, Sympatec Ltd Thermo Scientific, Anton Paar Ltd, AstraZeneca, BARDS Technology, Caleva Process Solutions Ltd, Cogent, Gamlen Tableting Ltd, GSK Heath Scientific Co Ltd, Intertek Melbourn, Merrow Scientific Ltd, Presearch Quantachrome UK Ltd, Select Pharma Laboratories, Sirius Analytical Surface Measurement Systems, TA Instruments Trinity Scientific (Part of DDD group), Academy of Pharmaceutical Sciences, Pro-C-epT / Riva GB Ltd / Dec UK Ltd.