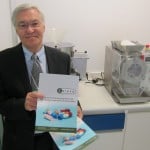 Caleva continues to collaborate with Prof Dr Humberto Gomes Ferraz from the "Departamento de Farmacia" (Department of Pharmacy) in the University of Sao Paulo (USP), Brazil. Dr. Gomes Ferraz and his group offer training courses and development projects from Brazilian companies and more details can be seen below. Amongst the technical skills that "DEINFAR" is able to offer are information, formulation development and training relating to the "Technology of Pelletization" (Tecnologias de Pelletizacao). The picture shows Steve Robinson at the CPHI exhibition in front of the Caleva extruder 20 and Spheronizer 250 that are in the laboratory of Dr Gomes Ferraz in the Department of Pharmacy at USP in Sao Paulo. The equipment was set up to enable demonstrations during the show.

Caleva e Departamento de Farmácia juntos na exposição CPhI South America, Brasil.

A Caleva continua a parceria com o Prof. Dr. Humberto Gomes Ferraz, do Departamento de Farmácia da Universidade de São Paulo (USP – Brasil). Dr. Gomes Ferraz, com seu grupo do Laboratório de Desenvolvimento e Inovação Farmacotécnica (DEINFAR), oferece diversos cursos e projetos em parceria com empresas brasileiras. Entre as oportunidades de parceria que o DEINFAR oferece, tem-se a capacitação de colaboradores e desenvolvimento de formulações a partir de "Tecnologias de Pelletização". A imagem mostra o sr. Steve Robinson na feira CPhI South America em frente aos equipamentos da Caleva (Extruder 20 e Spheronizer 250) que pertencem ao laboratório do Prof. Dr. Gomes Ferraz no Departamento de Farmácia da USP. Os equipamentos foram configurados para fabricação de pellets durante o evento.