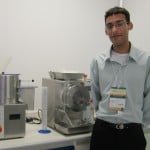 Bench-top Extruder and Spheronizer at the University of Sao Paulo in Brazil. Mr Edwardo Jose Barbosa, a postgraduate student in the school of Pharmacy, at University of Sao Paulo with the Extruder and Spheronizer belonging to the School of Pharmacy at USP in Brazil that was recently exhibited at CPHI in August 2013 Sao Paulo Brazil. Edwardo will soon begin a project to develop pellets using the equipment seen in the picture.

Extrusor e esferonizador na Universidade de São Paulo (Brasil)

O sr. José Eduardo Barbosa, estudante de pós-graduação da Faculdade de Ciências Farmacêuticas da Universidade de São Paulo, com o extrusor e o esferonizador que foram recentemente expostos na CPhI South America, em agosto de 2013 em São Paulo, Brasil. Em breve, Eduardo iniciara um projeto de desenvolvimento de pellets empregando os equipamentos mostrados na imagem.