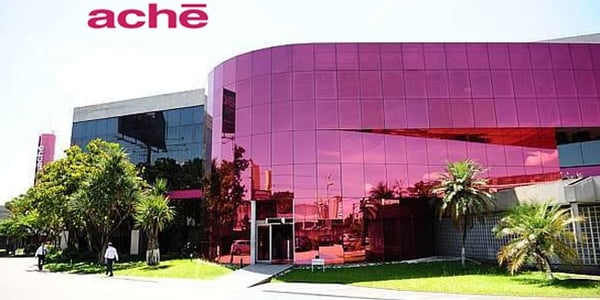 Ache (Sao Paulo, Brazil) Acquire a new Extruder and Spheronizer from Caleva

Ache, is a Sao Paulo (Brazil) based pharmaceutical company with all of its capital based on national Brazilian sources. Since its start around 50 years ago it has consistently been one of the leaders in the Brazilian pharmaceutical industry, remaining continually within the top three Brazilian pharmaceutical groups.

Ache has more than more than 3000 employees and a product range with more than 280 drugs in more than 700 different versions. The company is a major supplier within Brazil as well as to other Southern and Central American countries. Ache proudly has a sales force that is a highly respected by Brazilian physicians. With the quality of its staff, high quality internal organisation and quality in all aspects of its business operations Ache is widely considered to represent the very best of the Brazilian pharmaceutical industry.

Ache has recently chosen range of products for the development of pharmaceutical pellets by extrusion and spheronization that will be produced in its newly built pharmaceutical technology development unit. Caleva is proud to be selected to be a partner with Ache in Brazil and the new Caleva equipment was recently installed and training given in pellet and spheroid making technology to important members of the formulation development team on the customer site. Basic principles of pharmaceutical formulation development for the manufacture of pharmaceutical spheroids was demonstrated and a new formulation was developed to the stage where it was shown to be possible. The development of this new formulation will be completed by the highly capable R&D and formulation development staff within Ache.
Ache significantly reinvests to drive forward the sustainable growth and development of its business. It continues to launch new products into the Brazilian market. For example in 2012 there were about 200 projects under development and the company target is to launch 100 new products onto the market within the next three years. Caleva Process Solutions congratulates Ache on its constant achievements and believes that with the new extruder and spheronizer for the development of pharmaceutical pellets (Caleva provided the bench-top Variable Density Extruder and the Multi Bowl Spheronizer 250 to offer the maximum possible flexibility in its development program - Variable Density Extruder that will form a significant part of this future continued development. The new Caleva equipment is very flexible and the variable density extruder can work with small and large quantities. The spheronizer can also work with smaller quantities by using the interchangeable smaller bowls.
Caleva is proud to be associated in this way with the progress being made by Ache in Brazil and throughout Latin America and thanks Ache for its support shown to Caleva by choosing the best possible equipment for its ongoing pellet (spheroid and microsphere) developments.
The contact details for Ache are:-
Aché Laboratórios Farmacêuticos S.A.
Rodovia Presidente Dutra, Km 222,2
Porto da Igreja – Guarulhos – SP – 07034-904
http://www.ache.com.br/