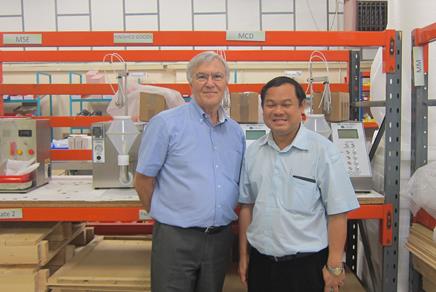 Caleva were indeed fortunate to have a visit from one of Thailand's leading academics from Chiang Mai University .

Chiang Mai University Department of Pharmaceutical Science is well known for its excellent record in student teaching as evidenced by the high percentage pass rate of the externally set annual examinations. It is the second oldest University in Thailand (after Chulalangkorn University in Bangkok).

Dr Chaiyavit Chaiyasut discussed many aspects of equipment for both research and teaching at University level. The discussions helped Caleva in the continued development of the new Caleva Multi Lab (CML) that provides a single bench-top unit with a detachable granulator, extruder and spheronizer (marumerizer). This new unit is designed to work with small 20 to 50 gram samples of powder.

Dr Chaiyasut, who had not previously seen the system, started with a 20 gram sample of dry powder and was able to granulate, extrude, spheronize (and also dry the samples in the Caleva Mini Coater Drier), clean and put away the CML all within one hour. We were all impressed with the ease of use of this Caleva equipment.

A film on You Tube showing the new Caleva CML in operation can be seen here.

We are grateful to Dr Chaiyasut for his comments and advice - all of which will go towards making the Caleva Multi Lab an improved equipment for both student teaching at a University level and a valuable research tool for serious scientists working in the development of formulations for pharmaceutical and other pellets.